Oh what a night!  Two more gains for the Lib Dems on huge swings in Norfolk and Gloucestershire alongside a very creditable result in Essex where we hadn't stood last time.
In Fairford North, Cotswold District, Lib Dem Andrew Doherty gained a seat from the Tories on a massive 30% swing.  This follows hot on the heels of our sensational victory in Stow in the Autumn.
Andrew is a town councillor in Fairford and campaigned on the failure of local Conservative run councils to provide the infrastructure needed to support the high rate of development in the local area.
You can find out more about Andrew's message by viewing his excellent campaign video here.
Our campaign followed the pattern of many of our recent by-election successes in the south west – identifying the pool of voters our support was likely to come from and concentrating our effort on speaking to those people.  There was a also a heavy concentration on postal voters who made up a substantial proportion of the votes cast.
Labour didn't stand this time, which clearly helped our result a bit.  The Greens did put in some effort and saw little return for it.
LD Andrew Doherty 610 [68.1%; +40.2%]
Conservative 270 [30.1%;-20.9%]
Green 15 [1.8%; +1.8%]
Majority 340
LD gain from Conservative
Percentage change 2015

Over in the east it was a similar story.  Marion Millership gained the Waterside seat on North Norfolk district council on a 12% swing from the Tories after a well organised and hard fought campaign.
Once again our campaign concentrated on positive and simple messages about our strong local track record and on key local issues.  We squeezed the Labour vote effectively.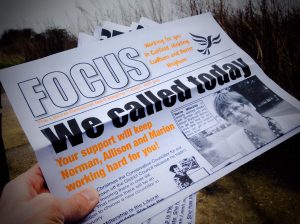 Despite worries on polling day that the snowy weather might put our supporters off we saw a good turnout of Lib Dems and little enthusiasm for the Conservatives.
A strong concentration on winning the postal vote earlier in the campaign meant we were insured against a low turnout on the day.
LD Marion Millership 649 [55.1%; +19.8%]
Con 410 [34.8%; -4.8%]
UKIP 77 [6.5%; +6.5%]
Labour 41 [3.5%; -8.5%]
Majority 239
Lib Dem gain from Conservative
Percentage change since 2015

Congratulations are also in order for Matthew Bensilum and the team in Tendring.
Great & Little Oakley has not previously been fertile territory for the Lib Dems, but Matthew and the team ran a spirited campaign from a standing start.
Well done to them for flying the flag so successfully.
UKIP  216 [36.8%; +14.1%]
Conservative 171 [29.1%; +1.4%]
Labour 117 [19.9%; +4.5%]
LD Matthew Bensilum 83 [14.1%; +14.1%]
Majority 45
UKIP gain from IND
Percentage changes from 2015
There were two elections in Fylde and Corby without Lib Dem candidates.  ALDC continues to encourage Local Parties to try and field candidates in by-elections whenever possible.
A huge thank you to last night's brilliant team of volunteers who came to 23 New Mount Street in Manchester to make calls at ALDC's By-election HQ and to all our members who made calls from round the country.
It's always good fun with such a lovely team – if you haven't been yet please come and join our winning team! ALDC's by-election support and the grants we offer to by-elections are funded through vital fighting fund donations. If you can help us fight in even more wards, please donate here.
For a detailed list of this week's results please click here. If you would like more information on all the forthcoming by-elections and details on who to contact to help, click here.