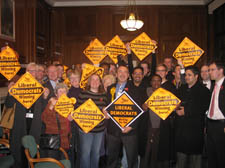 There were four principal council elections held on the 30th October. The Lib Dems held one seat. The Tories held two and lost one to Labour. There were five Parish Council and community council election results reported to ALDC. Two Lib Dem holds and one hold for the Independents. Labour gained two seats, one off the Independents and one from Plaid.
In the Kentish Town Ward by-election in the London Borough of Camden we successfully defended a seat. Only two years ago in the same Ward, in a difficult by-election fight we made a gain from Labour. On this occasion we were running the council and are well beyond any honeymoon period. Labour ran an unremittingly negative campaign; we did not.
Camden Lib Dems are well known for their innovative campaigning and three ideas seemed to work well:
The first idea was for an addressed survey to start the campaign. Not a very new idea but extremely effective in obtaining early Voter ID information where conventional foot and phone canvassing often struggles to contact the many flat dwellers. It also had the added bonus of establishing a new candidate and the Lib Dems with the very local green and cost of living issues with which it dealt.
The second was again not new but perhaps an old technique re-invigorated. Mass canvassing with 20 plus people eating in a local pub and then going out to do an afternoons voter ID together every Sunday. It built camaraderie, made tangible progress and kept campaigning fun.
The third was responsiveness. Work had been done prior to the campaign to make sure the walks in EARS for the ward were not simply based on size, time and deliverability or even the whims of deliverers. Kentish Town specifically aimed to have walks that covered small geographic areas with similar characteristics. This made the production of street letters very, very simple allowing us to react quickly as issues arose. During the campaign a popular local pub was threatened. Street letters were key to our campaigning on the issue, so when it was saved we had leaflets on the street within hours of the decision.
Keeping elections fun, exciting and topically relevant helps motivate our helpers and supporters.