Last Thursday, Kieran Mullins gained the Hailey, Minster Lovell and Leafield seat on West Oxfordshire District Council with a 15% swing from the Conservatives.
His victory was built on the work done in the Witney by-election campaign in the autumn and was led by by-election candidate Liz Leffman.
We selected a very strong local candidate in Keith Mullins. Keith lives in Leafield, one of the three main villages in the ward, and has been involved in a number of local activities.
In contrast, the Conservatives selected a candidate who lives in Witney town.
We ran a strong and visible campaign from the off. We started with a survey tailored to each main village and then did two general 'As It Happens' leaflets.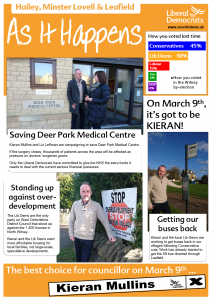 The vast majority of the literature was targeted at various groups within our pool. This included postal voter letters, various target letters from Liz, blue letters, targeted eve of poll leaflets and a targeted good morning (on polling day).
We had a bit of canvass data from the parliamentary by-election, but the ward hadn't been a priority for canvassing.
We targeted the postal voters early on, but it did become apparent that a lot of them had been signed up by the Tories over the years.
Kieran and the team did an extensive canvass during the campaign. By polling week we had built up enough data that our list of supporters, switch and squeeze voters looked just about big enough.
In the final six days of the campaign all our literature was targeted. The aim was to increase the turnout of our supporters and those likely to switch to us and to avoid increasing the turnout of Conservative inclined voters.
So in the last few days anyone in the supporters, switch or squeeze groups received a target letter from Liz Leffman, a blue letter from Kieran, a targeted eve of poll leaflet and a good morning.
On the eve of poll, we also ran targeted Connect VPBs (virtual phone bank) with the help of our excellent Southampton phone team, led by Simon Foster.
On polling day we knocked up supporters and squeeze voters.
We had a decent differential turnout which widened as the day went on, but there was a high proportion of voters turning out that we had no data on, which was a little worrying.
By the count we knew we were close, but it's fair to say that we weren't overly confident. As the boxes started to turn out we quickly confirmed that we were behind on the postals. We were even or slightly below the Tories in three boxes but Kieran was miles ahead in his home village of Leafield.
We still weren't 100% confident after verification but a significantly higher turnout in the Leafield box pushed Kieran ahead and the final result was a majority of just 63 votes or 5.2%.
Well done Kieran, Liz and the team.