Elections and campaigning
We have continued to see significant Liberal Democrat success in local authority by-elections. 2016 was the best year 'ever' for the Party – certainly since modern ALDC records began (20 years ago). In principal by-elections this has been: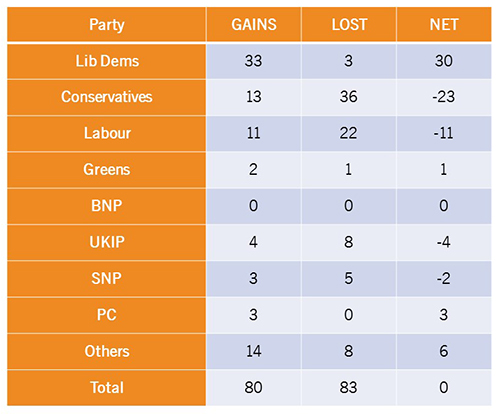 We've already got off to a good start in 2017 with two stunning by-election gains in Sunderland and Three Rivers (re-taking control of the council in the latter).
At ALDC, our Thursday evening volunteer phone bank has been proud to have been phoning into the vast majority of these gains and holds, both with polling day 'knock up', and some weeks, pre-polling day calling where we have the capacity. The phone bank is paid for by ALDC's Fighting Fund, which has been able to help with small grants to enable people get started in many areas.
ALDC has also made a significant contribution to Parliamentary by-elections, seconding our HQ and Campaigns Manager, Claire Halliwell, to Richmond Park, as well as many other staff attending over the campaign period. Two ALDC campaign days are planned for the Stoke Central by-election.
Our Kickstart programme for 2016 concluded with our biggest ever Kickstart weekend at the end of November with 210 participants. Kickstart weekends consist of training (24 training sessions, group mentoring and support, guest speakers and what we're calling our 'expert lounge' for one-to-one support (think 'genius bar'). Guest speakers at November included: Baronesses Lynne Featherstone, Sal Brinton and Kath Pinnock; and Mayor Dave Hodgson. In 2017, Kickstart is moving earlier in the electoral year to give people and teams the maximum run-up to the 2018 local elections. The dates: Summer Kickstart, 7-9 July 2017 (which will also be the same date and venue for our Councillors Weekend) and Winter Kickstart, 24-26 November 2017.
Alongside a lot of work on the above, our Development Officer team have made significant progress supporting areas with local elections in 2017. In Scotland we are working closely with the Scottish Party to help the team grow in 2017. Elections take place in 2017 in English Counties/Unitaries and all local councils in Scotland and Wales. In England, we work closely with the campaigns team at HQ to ensure we are not overlapping or duplicating our work. Similar discussions have taken place in Scotland with the campaigns team based at Clifton Terrace and similarly with the new team in Wales.
ALDC is delivering a Local Government Association (LGA) funded project to support the candidates in the first ever Combined Authority Mayoral elections in 2017 (Liverpool, West Midlands, Greater Manchester and now the West of England CAs). This has been through an appointment of a temporary Development Officer who is working well with the teams as candidates are selected.
Financial support through the G8 Grants process is on track for 2017. A significant portion of G8 funds go to provide affordable subsidised places at the Kickstart weekends (available to all on a 'first come first served' basis), but after this the money is for grants to local parties. This is to be awarded to 87 'battleground' wards/divisions across England with similar schemes in place for Wales and Scotland. The English Party has generously awarded an additional £10,000 grants for the local elections in England which is allowing us to identify a further c. 30 battleground wards.
Our aim at ALDC is to keep giving you the inspiration and resources to keep campaigning throughout the year. We are about to send members our 'Year of Campaigning' campaign planner which, for the first time, contains details of all our templates over the whole year, together with options for print deals for most items. All templates are being renewed through the year, with everything for the local elections ready by the start of March 2017. We are also producing some of our templates in bilingual format (Welsh and English) and some with specific Scottish Party branding.
ALDC is collating a full database of Liberal Democrat candidates and agents for the 2017 elections to enable us to provide an Election Briefing service between now and polling day (and through to the election expenses deadline). The Election Briefing service has started for 2017, and will consist of emails, some postal mailings and some text reminders.
For the first time this year we are also now collating candidate details for 2018 (as many people have rightly selected early), and will be starting an (email only) Election Briefing service for 2018 candidates and agents.
Organisational news
A very warm welcome to the 195 new members who have joined ALDC in the last few months (November, December, and January), in particular to new Group Members Eden and Herefordshire. At the end of January 2017, we had 2,915 members. This compares to 2,624 at the end of January 2016.
ALDC has been running a successful membership recruitment drive through the autumn and winter. We asked members to help us identify people in their local area who would benefit from ALDC membership, to help us grow our campaigning as a Party. To encourage you, and to help us all keep door knocking all year round, we offered a basic door-knocking tablet for every member recruited. The offer ended at the end of January 2017, with around 270 new members recruited.
ALDC is 50 in 2017 (50 years combined between ALDC and our two predecessor organisations ALC and ASDC – Liberal councillors first forming an Association in around 1967). We have five themes to mark the anniversary, which has already begun by bringing our history alive with a weekly highlight from the last 50 years circulated via email and social media.
Our member communications have continued throughout the last quarter, which consists of at least two new pieces of member content (advice, templates or best practice every week) which is shared with members in the Wednesday email. In some weeks this year we had done separate versions of this email to Scotland, Wales and England to meet the different needs of members in those areas.
We are developing a more disciplined communications strategy, to manage the significant amount of information we want to communicate so as not to overload members, and to make best use of our different communications channels.
Our staffing changes in 2016 were finally completed when Jenny Lamb joined us at the start of January 2017 as Campaigns and Communications Organiser. Jenny works on events, office volunteering (phone bank and clerical day), social media and candidates.
We have started a regular Wednesday 'clerical day' at our offices to help us with tasks such as stuffing envelopes etc.
We continue to work very closely with our colleagues at the Liberal Democrat Group at the LGA (Local Government Association). The 11th 'Next Generation' programme has now met twice with a study visit to South West Hertfordshire (Watford and Three Rivers) and meeting key people in London, including Tim Farron, followed by a leadership weekend at Warwick University. The LGA-funded Be a Councillor programme has enabled us to produce a number of specific booklets aimed at recruiting more Lib Dem candidates in both 2017 and 2018 with a number of standalone events.
Plans are in place for Federal Party Conference in York in March 2017. This includes a joint stand with our partners in the LGA Liberal Democrat Group, a fringe on green belt issues "Green Belt: Space to Breath, Space to Build" with speakers from parliament, local government, Home Builders Federation and the Campaign to Protect Rural England, and eight training sessions. A motion has been submitted for debate on train operators.
ALDC is also at Scottish and Welsh Party conferences this spring, and at a number of regional conferences with training, stand and other sessions.
ALDC's new Management Committee took office in November 2017. Three sub-committees have been established which are progressing work programmes for the year.