Our team in Clitheroe is working hard to gain the division on Lancashire County Council from the Conservatives. In 2013 we lost this seat by just 129 votes, and Allan Knox, one of our district councillors in Ribble Valley, is already campaigning hard in the division.
Allan has had some recent success with a single issue campaign to improve the road safety of a junction in Clitheroe. This involved petitioning a developer to build a new roundabout before they went ahead with the construction of new houses. I think the campaign is a useful reminder that it is possible to direct petitions and campaigns towards companies and organisations as well as your local council or the Government.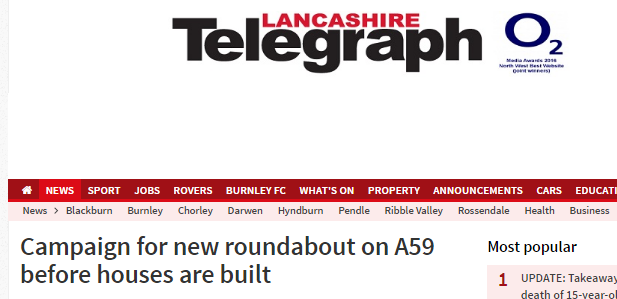 Allan's campaign used a very simple Google Form to set-up the petition online. This is free to do, and Google has its own comprehensive help pages that explain how to set-up a form. You do need to remember of course to add in the correct data protection statement, and ideally make it compulsory for people to provide an email address and postal address. You can then simply link to the address of the Google Form as I have done here, or if you contact us with the web address for it, we can embed the form into a MyCouncillor page for you.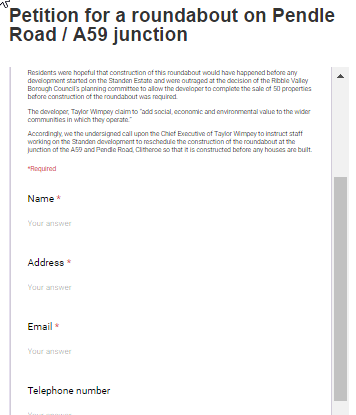 It's then possible to highlight the petition using Facebook advertising, and publishing the web address alongside a hard copy petition in a Focus leaflet. Once you have your petition set-up it's worth then issuing a press release, and contacting your local paper about it. As you can see from the pictures that go along with this article Allan did a good job in getting a lot of coverage out of this petition.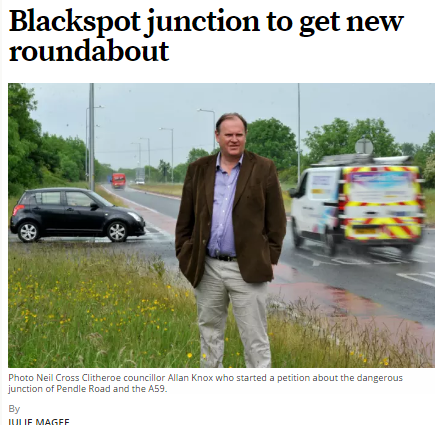 The good news here is that the campaign was a success. The developers have agreed to proceed with building the roundabout. The people of Clitheroe will have a safer road, and Allan has a great success story to include in his election campaign. This is a great example of using an online petition to good effect. By opting to go down the Google Form route Allan has easy access to the contact details of people who supported the campaign to keep them updated with news about it and future stories.