Voting Breakdown
Percentage based
Gains and Losses
Percentage based
Campaigners across Fife are working hard to pull off a surprise victory in what will be the final Council by-election in Scotland before the full council elections next May. Steve Wood is working hard to win and to cement the Lib Dems' position as the real challengers to the SNP in the 4-member Leven, Kennoway and Largo ward.
With just a week to go before polling day organiser Rory Roberson and the team are pulling out all the stops. You can help  with the postal voter telephone knock up using the Virtual Phone Bank codes for VPB 1: D52A12Q-9656 and VPB 2: E52A12A-7262 to follow up the Blue pen letter target mailing which postal voters have just received.
After weeks of inactivity Labour have finally woken up to the weekly leafletting by Steve Wood's Local team with help from volunteers from neighbouring parties in Perth and Dunfermline.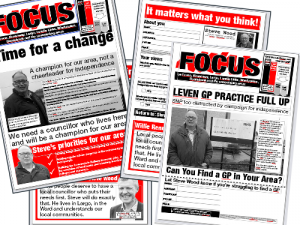 Red jacketed canvassers were out in force at the weekend.  But the flying start by the Lib Dems has made a real impact and the feedback we are getting on the doorsteps is that local residents feel taken for granted by Labour and people know they cannot win the by-election.
Steve and the team have identified the issues that matter to local residents: Severe Shortage of GPs, Pot-holed streets and the Levenmouth Rail stop. They are hammering home a hard-hitting message that local residents need a hard-working and effective local champion who will stand up for the area and not just another cheerleader for Independence.
The "Final push" leaflet will be going out this weekend, if you can help with that or with knocking doors every evening from now to the 15th call Rory Roberson on 07453980186 or email rory.roberson@scotlibdems.org.uk
We will also need help with the telephone knock up on polling day so contact Rory and help Steve.