This campaign provides councillors and campaigned with a set of resources, including , that will help them become more informed about how they can help their residents improve their speeds. It will also help ensure that residents and businesses without adequate broadband speeds remain on the Government's radar.
The LGA is calling for a minimum 10 Mbps speed to be set as a percentage of average national speeds because it would quickly become "outdated" as technology advances. This means when the national average of download speeds inevitably rises, the minimum standard will too. Councils now look forward to working with government to ensure these changes are implemented and fast and reliable broadband quickly becomes a reality for everyone.
Downloads
Broadband Leaflet – PagePlus and PDF
Broadband Focus Drop-ins – PagePlus and PDF
Broadband canvass petition – Pageplus and PDF
Email to constituents – word
Council Motion – word file
MyCouncillor story – txt file
Guide: Uploading model stories to MyCouncillor
Download the text files you want to post (these should open in Notepad on your machine)
Open your MyCllr site and select New Post
Make sure your New Post is opened in the 'Text' editor mode (see below)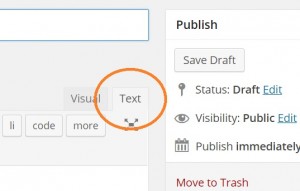 Copy and paste the Title into the Post Title section on your screen
Copy and paste the code below the title into the main text entry section on your screen
Hit the blue 'Publish' button to post your story.
If you have any questions or encounter any difficulties, email me at claire.halliwell@aldc.org and I will be happy to help.