The winners of the ALDC Campaigner Awards 2016, sponsored by Midshires,  were presented at the ALDC AGM held in Brighton at Federal conference by Willie Rennie MSP, celebrating the best campaigning teams from across the Country.
This year's winners and runners-up are:
Overall Winner – Liverpool 
Runner-up: Portsmouth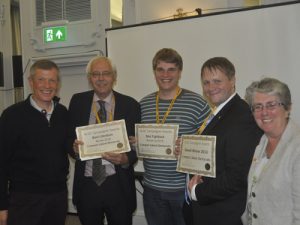 Well done to Liverpool, our Overall Winners, winners of Best Literature, and runners-up in Best Fightback. It's been a fantastic year of development on the Mersey, with Richard Kemp polling over 20% of first-preference votes in the Mayoral contest and Cllr Carl Cashman breaking the Labour one-party state in Knowsley. Congratulations!
Best By-Election Campaign – Mole Valley
Runner-up: Aird and Loch Ness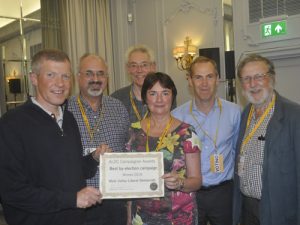 Great work from the Mole Valley team to secure one of our best results of the year in Leatherhead North. Combining traditional community campaigning with innovations in use of web-based video to reach new audiences and consolidate our core campaign messages.
Best Fightback – Manchester
Runner-up: Liverpool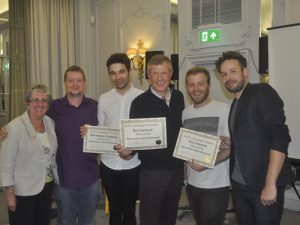 The first of a triple-whammy for the Manchester team, whose campaign to break the Labour one-party state in Manchester successfully returned former MP John Leech to a council seat in Didsbury West. The first Liberal Democrat to win a local government election of any kind since May 2010, it took a staggering amount of work to make this breakthrough and this was recognised by their victory in no less than three different categories!
Best Innovation – Manchester
Runner-up: Tower Hamlets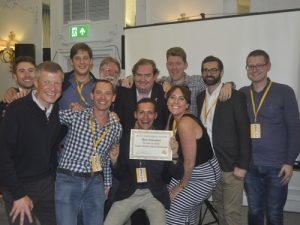 Well done to the Tower Hamlets team, pictured above, who narrowly missed out in our Best Innovation category to the Manchester renaissance. Tower Hamlets have, however, consistently performed at the very top level of Lib Dem local campaigning over the last few years and we have no doubt they will remain at the cutting edge of best practice in the party – well done on another exceptional year of creative campaigning!
Best Literature – Liverpool
Runner-up: Gloucester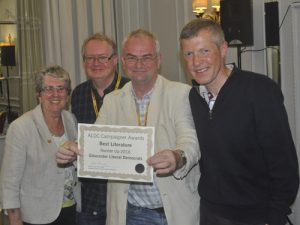 Best Literature was another close-run category, and we were all impressed by Gloucester's literature over the last year. We'll have a full story on their work, and Liverpool's award-winning literature, on the website soon. For now, well done to Jeremy Hilton (pictured) and the Gloucester team.
Best Squeeze Campaign – Manchester
Runner-up: Cardiff
Another Manchester breakthrough, squeezing an already marginal number of Tory votes to the edge of statistical insignificance! Also, very well done to the Cardiff team.  More details to follow!
Best Community Campaign – Portsmouth
Runner-up: Bristol
Excellent work from both Portsmouth and Bristol, using the whole range of communications techniques to build genuine community campaigns across their areas. Portsmouth's 'Aviary' campaign also made widespread use of web video and generated amazing levels of engagement and interaction across social media. Well done to all!
We will be running a series of articles on these winners in the members only area of the ALDC website over coming weeks!
Congratulations to every team nominated in this year's awards.