At conference, we received a number of requests to explain a bit more about the [your name].4mp.org.uk web address style that we offer as an alternative to our traditional 'MyCouncillor' website brand.
I've written up a short summary for anyone interested in creating their own PPC website, or converting their existing MyCouncillor website to the alternative style.
How You Can Use Your "4MP" Blog Sites
What is a 4MP Site?
A free WordPress-based website that ALDC members can use to promote their parliamentary campaigns.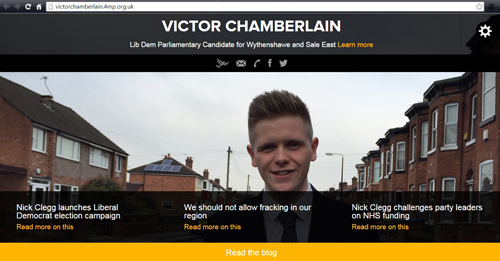 How can I use it?
Two ways – either as a site for regular stories (a 'blog') or as a low-maintenance site with contact details for local residents (an 'online business card')
Blog
You can add regular stories to your site. For busy periods, you can also schedule stories to appear on certain dates, allowing them to be written in advance.
Online Business Card
This format requires no maintenance after it's been set up. You don't need to post any stories. You add a good background photo and some contact details for local residents to get in touch. The three stories beneath the main photo on your front page come from party HQ and will refresh every few hours, so the site keeps looking fresh.
What if I already have a MyCouncillor site?
The .4mp.org.uk address is a style of address, the sites are exactly the same as other MyCllr sites. If you already have a MyCllr site, we can change the address to .4mp.org.uk for the duration of the general election and then change it back.
You will notice no difference in your previously posted content and people searching for your site using either address style will still find it.
How can I promote my site?
Make sure your page's address is featured on all leaflets, letters, and press releases. Add it to your Facebook page, Twitter profile, or any other social media.
If you are an active blogger, remember to posts links to your new stories on Twitter and Facebook. Don't post the full story there, give people a headline or a small excerpt but use a link to encourage them to visit your site.
How do I get my own 4MP site?
As with our MyCouncillor websites, a 4MP website is an exclusive benefit of ALDC membership. If you are not a member of ALDC, click here to find out more about what we do and join today.
If you are already a member, you can register for a site via the following procedure:
Log into the ALDC website
Click on the 'Members' option at the top of the screen
From the purple banner on the Members Dashboard page, select the Manage Membership icon
Scroll to the bottom of the form that appears, click the Modify My ALDC Services button, and then click on the appropriate link to request a site.
Where can I find further information on using the site?
Our Ask ALDC section on the MyCouncillor network contains a number of FAQs on how to use your site.
If you have any further questions about MyCouncillor, 4MP sites, or any other aspects of creating and maintaining your online presence, you can email ALDC Communications Officer Craig Whittall for additional advice.
---
Comments
says
The cllr website needs to have ability to auto send nes blog stories to my Twitter and facebook accounts -- currently not enabled