With the final council by-elections of 2014 it's now clear that the Liberal Democrats have beaten Labour and the Conservatives to record a net gain of six seats across the year.  The Conservatives saw a net loss of eight seats and Labour a net gain of two.  These Lib Dem gains were in places as diverse as Lichfield, Charnwood, Canterbury, Shropshire, East Cambridgeshire, Cornwall, Northumberland, Maidstone, Guildford, Epping Forest, York, Rutland, Cambridge and Aylesbury Vale.
Despite the difficult opinion polls and media hype, council by-elections show that Liberal Democrats can still perform well in elections around the country.  These elections have been won in a variety of places including many areas without Lib Dem MPs, showing that when we continue to fight and don't give up we can still get some impressive results.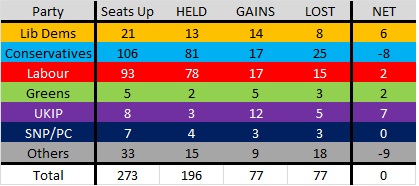 ---
Comments
says
Can't believe you forgot to mention the gain from the Tories in Charlton Park ward, Cheltenham Borough Council, the first time this ward has ever been represented by a Lib Dem !!