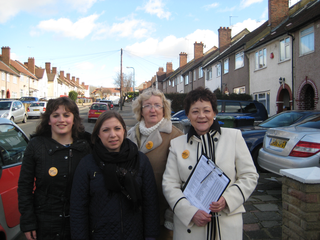 Thursday's biggest news came from the capital, where established local campaigner Alison Hopkins (pictured, 3rd left) and the Brent Lib Dem team held the Dollis Hill ward against Labour. This victory is the first by-election win in a Labour-facing seat in London since the  general election. 
Alison's long track record of campaigning in Dollis Hill, having spent 55 of her 57 years in the ward, set her in good stead, with community leaders and long-time local residents providing valuable endorsements in her leaflets. The use of 'non-politician' endorsements, both as 'vox pop' artwork and as street letter/blue letter authors is something that other parties use effectively in their campaigns, and is a tool that Lib Dems across the country should be making better use of. A particularly effective leaflet in this case came in the form of a timeline of Alison's involvement in the ward, with photos and community campaigning details going back to the 1970s – firming up the essential message that Alison was by far the most local, and most accomplished, of the candidates on offer. 
There were plenty of issues to choose from in Brent, and Alison's prior work on saving Brent's six (of twelve) libraries scheduled for closure, and the Brent Lib Dems dogged work on exposing wasteful spending by the Labour council clearly paid dividends in supressing the eventual Labour vote. A prodigious Tory squeeze knocked nearly 13% off their previous showing, another potential difference-maker when the day was eventually won by just 37 votes. 
Particular emphasis was placed on winning the postal vote, with consistent PV recruitment activities prior to the campaign and an effective blue letter from Alison in the run-up to PV polling day. The emphasis was on door-knocking, with huge ward coverage, including lots of valuable doorstep work from Sarah Teather MP.  The tactical side of the campaign was rounded off with full telling cover, Eve of Poll and targeted Good Morning, and a well-organised box count team on the night. 
The real take-home themes of this crucial victory are consistent doorstep work, a well-prepared postal vote strategy, and the power of endorsements from local residents and community leaders (who are not affiliated with a political party). Our warmest congratulations to Alison and the Brent team, on writing a little bit of post-2010 by-election history!
Elsewhere, there were a further three principal by-elections. The Tories comfortably held Labour off in Hertfordshire County Council's Waltham Cross Division, the Holland-on-Sea Residents Association kept their seat in St Bartholomew's ward in Tendring, and, in the only change of hands on the night, West Devon's Tavistock North ward was taken from the Conservatives by an Independent.
 The very best of luck to all of our candidates and campaigners out in the field.
Craig Whittall
Communications Officer