There were four principal council by-elections held on Thursday 20th August. The Liberal Democrats gained two seats from Independents but lost one to the Conservatives. The Tories held one seat In the only parish and Town council elections reported to ALDC the Lib Dems held one seat and lost one seat to the Conservatives.
In the Hucknall Central Ward of Ashfield District council, Nottinghamshire the local Liberal Democrats continue to march onward apace. Following dramatic recent electoral progress they had formed the district council's minority administration following the 2008 elections. Then in May this year a cabal of Labour, Independents and the Tories then conspired to oust the Lib Dem administration re-instating Labour much to the fury of local residents. In June's County elections the Lib Dems made four gains from Labour and have now stormed to success in this District by-election as well. The Liberal Democrats remain the biggest group on the District Council with 13 seats.
In the Mitcheldean and Drybrook Ward, Fo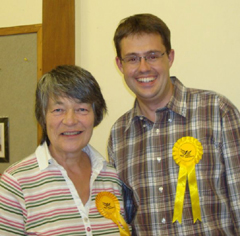 rest of Dean, Gloucestershire we had come second in the county elections from June and had seen a possible district by-election coming. This had allowed us to identify a potential candidate early and prioritise the County "Thank You" and surveying for this district ward, culminating in us calling the by-election. Our campaign was not innovative from a national perspective, but was novel locally including strong postal vote, volume of literature, clear messaging, blue letters, direct mail, eve of poll, good mornings and two knock ups. It was also handy that we had the only local candidate.
In the Saxilby ward of West Lindsay council in Lincolnshire we lost the seat to the Tories. Our councillor had become an Independent before she resigned and then fought and wonthe by-election as a Tory. This was a council that we ran in 2006 but lost control of in 2008.