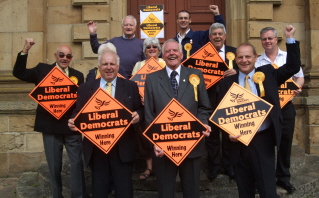 Although the Norwich North by-election hogged the political headlines, it was the council by-elections that produced the more interesting, and less predictable, set of political news.
This week's by-election results got off to an early start, thanks to the holiday plans of Kensington & Chelsea's Chief Executive creating that rare event – a Wednesday by-election. And what a result to start with! Our victory in Colville Ward, a formerly safe Labour seat which includes the famous Portobello Road, is the culmination of four years of hard work by Carol Caruana and her team. The campaign, ably led by Robin Meltzer, saw monthly Focus leaflets and addressed mailings which concentrated hard on the issues that residents of the area really cared about. This result not only gives us our first ever elected councillor in the borough, but it also upset both Labour and the Conservatives in the process, who both assumed they would win.
Thursday's elections however were more of a mixed bag. 
Our team in Redcar & Cleveland showed once again how to win, with their third by-election gain from Labour in the last year! Our victory in Dormanstown means that we now hold 10 of the 15 seats in the town of Redcar. Local MP Vera Baird must be getting worried.
We also held on to a council seat in Wembley Central in Brent, which had previously been lost when the former councillor went independent before eventually being disqualified from the council. This result, in one of the few bits of Brent to be Liberal Democrat well before Sarah Teather was elected an MP in the borough, bodes well for us keeping control of the council in next year's London elections.
Disappointingly, we lost a district council seat in Huntingdonshire to UKIP. However, this was an area in which UKIP did very well in June, and so coupled with the death of our popular well known councillor, it was always going to be a difficult defence. We did however win a town council seat from the Conservatives to compensate, and gained a number of new members during the campaign, which will help us build for the future. 
We also failed to stand a candidate in Winster & South Darley in the Derbyshire Dales. Surprisingly, this picturesque rural ward in the heart of the Peak District was gained by Labour from the Conservatives, but even more astonishing is that we weren't organised enough to find a candidate when we held this ward as recently as three years ago.