There were two principal council elections held on the 2nd July. The Lib Dems gained one seat from the Tories and the Tories held the other. No Town and Parish Council results were reported to ALDC.
Thursday was another good night for the Lib Dems. We now have made eleven net gains since the beginning of the year in council by-elections.
Nonsuch ward, part of the London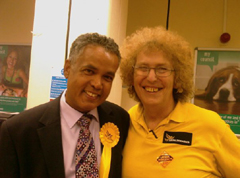 Borough of Sutton has been a Lib Dem ward but the Tories took a seat in 2006 all out London elections. We wanted it back! So in a held parliamentary seat we pulled out all the stops and utilised help from across London with action days every weekend. How often will the two Lib Dem MPs' turn up to help deliver the good morning leaflet at 6am only to find there were none left to deliver!
Labour and the BNP ran two leaflet campaigns but the Tories produced six full colour leaflets.  The final Tory leaflet went negative against our candidate but the tactic backfired badly. We not only have two local MPs, we also run the council and fighting by-elections when in control is often difficult. In these circumstances getting a swing to the Lib Dems from the Tories and over 50% of the vote in a high turnout election is particularly encouraging.
Unfortunately despite this success we are still failing to stand candidates even in wards where we polled 22% last time. Standing no candidate in the Ferndown Central ward of East Dorset District Council is even more inexplicable as it is in the Christchurch constituency.
For those who had county or Unitary elections in June the deadlines for the receipt of return of election expenses are: Thursday 9th July if your result was declared before midnight on 4th June. Friday 10th July if your result was declared after midnight i.e. 5th June.