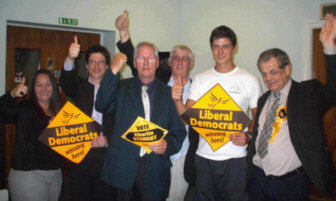 Winning candidate Charlie Stewart (third from left) celebrates winning the All Saints by-election with some of his team.
In the three principle by-elections held on Thursday 30th July 2009 the Conservatives took a seat off the BNP, Labour and the Lib Dems held a seat each.
The Lib Dems held a seat on Cheltenham BC 'All Saints' ward after the sad death of long-serving Liberal Democrat Councillor Tina Franklin in May. After a hard fought campaign in which they delivered a constant flow of leaflets and letters, they canvassed over 50% of the ward with the valuable help from outside the constituency. The Conservatives as expected ran a hard campaign, but seemed to get the message wrong by talking about the internal workings of the Council. The result was a good majority of 285 over the Conservatives.
In the Tameside MBC, 'Denton North East' ward, Labour held the seat with a slight increase of vote share. The two disappointing points of this result are that we did not stand a candidate even though last time we achieved 18.2% of the votes, and the second was the 13.6% (358 votes) that the BNP achieved.
In the Broxtowe BC, 'Brinsley' ward, the Conservatives took the seat with 40.9% of the votes and the BNP came second with 28.3% a drop of 15.7% from when they won the seat last time. The Lib Dems did a full-blown campaign of leaflets, target mailings and a 60% canvass. This ward was targeted by the Tories and even though the Lib Dems did a very good campaign, the Tories had a local candidate who has been a Parish Councillor for 30 years, they out leafleted, out canvassed and did the Postal Vote better than we did, by starting earlier than we did. and using all the messages that we would, but against us, resulting in the Conservatives winning the Postal Vote and the seat, with Lib Dems coming third behind the BNP.
The messages from this week's elections are, start early, target the Postal Vote, talk to as many people as possible and make sure that you set the messages and keep control of the campaign.
Cllr Mark Alcock
mark.alcock@aldc.org