There was one principal council election held on the 16th April, which was held by Independents. There was one Town and Parish Council result reported to ALDC, a Lib Dem hold.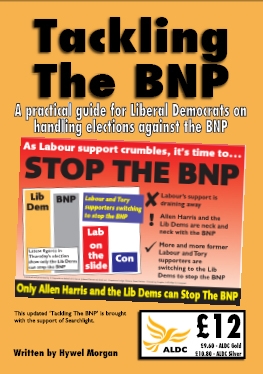 We have discussed on a number of occasions in this column the threat posed by the BNP. We now face the real threat of the BNP gaining Euro seats with all the financial and organisational potential that would follow. The BNP have raised the money for full colour Freepost in every region, which will undoubtedly attempt to make themselves look like "nice people". We need to challenge this in our non Freepost literature between now and June 4th for the Euros and locals. To help you do this we've produced a pack of ready to use artwork that can be dropped into your leaflets. It's available on our website at www.aldc.org. We also have available our "Tackling the BNP" publication which not only provides campaigning advice and ideas but also the history and background of the BNP – useful when challenging their smart suit façade.
What you can do:
a) Where the BNP are standing a candidate in the county or unitary elections do not ignore them – they will not go away. Make stopping the BNP one of your key campaign themes in all your literature. Use the threat as a means to increase turnout with targeted letters to supporters and key groups likely to oppose the BNP e.g. ethnic groups and Labour supporters (where they're the third party).
b) Where there is no local election BNP candidate, just those on the regional Euro list it is still important to put the anti BNP message in all our non-freepost literature. You can still use the European BNP threat to encourage our supporters to vote. Why not use it in a mailing to encourage supporters to sign up for postal votes? It's sometimes difficult to motivate our helpers and members to think that they can make a difference in the European elections. Use the real threat of the BNP in mailings and emails to our activists to encourage them to do more.
Please let us know if the BNP are standing a candidate in your County Division or Unitary ward so that we can help and advise. Please send or email us copies of any BNP literature so we can monitor their performance.