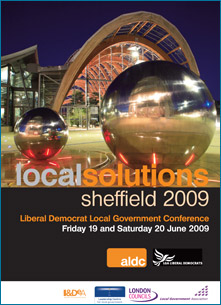 Don't miss out on your chance to benefit from the special discounted rate for early registrations for the Liberal Democrat Local Government Conference on Saturday 20 June 2009 in (Lib Dem run) Sheffield.
Registrations received by 31 March 2009 come at the special discount rate of £40 – cut that down even further if you are an ALDC member to £35 or £30! (If you're not yet a member -why not join!).
Registration for the conference is online – just click here to register and pay by credit or debit card. ALDC members should log on first to the website, and then your member's discount will be applied automatically.
The programme for the Conference is taking shape and we have a packed schedule for you.
Why not come on Friday evening for the 3rd annual Lib Dem Local Government dinner hosted by Party President Ros Scott. It's just £30 a head, and we've done a deal with the conference hotel (the Mercure St Paul's) for delegates to stay overnight (you do need to pay this yourself). With the dinner, the conference and the accomodation all in the same venue it should be an excellent opportunity for networking and meeting other Lib Dem Councillors and activists.
Saturday itself kicks off with Party Leader Nick Clegg MP. Not only is Sheffield a Lib Dem run city, but it also boasts our Leader as one of its MPs. Nick will be addressing the conference in the morning. As well as Nick and Ros, other speakers include Julia Goldsworthy MP and Councillors Paul Scriven, Kath Pinnock and Richard Kemp.
Training is always an important part of the day. For campaigners (that's all of us), we kick off our Flying Start 2010 programme of sessions aimed to deliver success for Lib Dems in the forthcoming local and General elections (and the possibility of them being on the same day). For Councillors we've teamed up with the IDeA and Midas Training to bring you a busy programme of skills and practical training.
Policy sessions focus on sharing the best practice of Liberal Democrats making a difference at a local level and we've a full day exhibition with a mixture of party bodies, partner agencies and equipment suppliers.
All this for as little as £30! – but only if you book early!
Don't forget that if there is a group of you coming, it's "buy three, get the fourth place free" – so why not bring along the whole team?
Book online here. For more information please contact Emma Hall or phone 01422 843 785.