There were five principal council elections held on the 12th March. The Tories held one seat, Labour two and the Lib Dems made a gain from Independents. In Scotland the SNP gained a seat off Labour. There were two Town and Parish Council results reported to ALDC. Labour held one and the Lib Dems gained one from UKIP.
The Hartland and Bradworthy by-election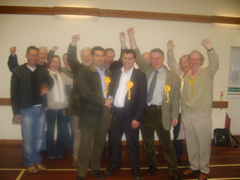 for Torridge Council in Devon showed the advantage of an extremely well known local candidate. Brian Redwood is an active parish councillor and charity fundraiser. If you've got a candidate this good, get them on the doorstep. Comments like "you're the only ones that we've seen" and "you're the only ones doing anything" demonstrate the difference getting on the doorstep makes.
With the county elections fast approaching make sure you've organised enough voter ID sessions to give a workable shuttleworth for polling day. Don't be afraid to start now, If you call "on behalf of Fred Bloggs the Liberal Democrat standing in the County elections on June the 4th" you would obviously be declaring his candidacy but for most this is not a problem. The earliest the regulated period for local election expenditure can start is the 28th April – this would be the case if your candidacy were declared on any day prior to the 28th. Only for those who intend to spend up to the limit in the regulated period will this be an issue.
St Helens had two by-elections, one in Rain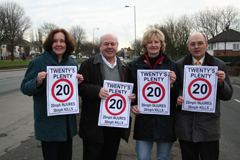 hill, which we targeted; the other in Parr, which we did not. Both had strong Labour majorities and the Lib Dems had no existing organisational or campaigning infrastructure. To complicate matters we run St Helens council with the Tories so were defending the council's record. Whilst two second places may not sound good both the BNP and the Tories were marginalised. The campaign developed the ambition, experience and skills of the local party, and demonstrated that the Lib Dems are the party who can take the parliamentary seat off Shaun Woodard at the general election.
In the Norwich City Council by-election in Bowthorpe ward we saw a massive 20% leap in our share of the vote. If the swings were repeated in the General election we would take the Norwich South parliamentary seat from Labour.