Liberal Democrats councillors and local campaigners come together in (Lib Dem run) Sheffield on 19 and 20 June 2009 for the third Liberal Democrat Local Government Conference.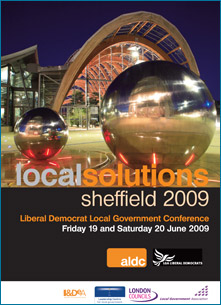 This is the third year running that the conference has been jointly organised by ALDC and the LGA Liberal Democrat Group,and builds on the success of the last two events in Birmingham. This is a great opportunity for Liberal Democrats across the Country to exchange best practice and prepare for the electoral challenges that face us in the coming years. 
Register online now to take advantage of the special "Early Bird" registration fee of £30 (ALDC's Gold Members); £35 (Silver) and £40 (non-ALDC members). ALDC members should "log in" to the website FIRST to receive you're members discount – its then applied automatically). 
Why not bring along a group to the Conference? As a special offer if you pay for three places at the Conference – then you fourth place is free!
The conference takes place in the centre of Sheffield at both the St Paul's Hotel and Sheffield Town Hall, which are next door to each other. On Friday 19 June 2009, the Leadership Centre for Local Government and others will be organising satellite events during the day. Further details will be available shortly.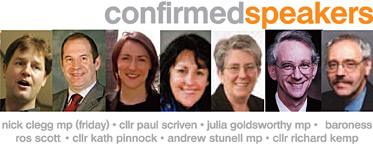 On the evening of Friday 19 June, you are welcome to join us at the Lib Dem Local Government Dinner, at St Paul's Hotel, with Nick Clegg MP and Baroness Ros Scott. Accommodation on Friday evening is available at St Paul's Hotel. Dinner on Friday night is £30 extra (sorry no group discount here!)
On Saturday the main conference takes place from 9.30am – 4.00pm and will include: – training – skills for councillors and campaigners – speakers and debate – exhibition – fringe events and workshops
Confirmed contributors on Saturday include: Baroness Ros Scott, Julia Goldsworthy MP, Andrew Stunell MP, Councillor Richard Kemp, Councillor Kath Pinnock and Councillor Paul Scriven.
For delegates attending the whole Friday daytime and Saturday programme, a special full delegate rate is available of £125 which includes dinner.
Accommodation must be booked separately which can be done online here.
For further information, and for details of exhibition space, please contact Emma Hall on 01422 843 785 emma.hall@aldc.org