There were two principal council elections held on the 15th January. The Tories held one seat and Labour held the other. One Town Council result was reported to ALDC where the Tories held the seat.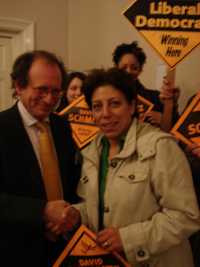 It's not often that local council by-elections get coverage in the national broadsheets but a by-election in a Labour Ward in the London Borough of Haringey following the Baby P case was always likely to be high profile. We started as the main opposition on the council but on only 12.7% and in fourth place in this ward the last time it was fought in 2006. So to get the largest swing of any party, adding 8% to our vote in this potential squeeze situation was a very creditable result. If the same swing were repeated across Haringey in 2010 we would sweep to control with the Tories still winning no seats.
The intervention of all Non Aligned Parties (NAPs), such as the Greens in Haringey, has a very noticeable effect on any election above the direct vote it obtains. Votes for NAP's are unpredictable and can and do come from all parties and none. As important for the final result is the way that NAPs, like the BNP, can polarise voting behaviour. The likelihood of facing a candidate from these parties in any given by-election varies radically across the UK. In 2008 the Greens stood in around 30% of by-elections but in London that rose to 53% of seats. Other areas where you are more likely to find a green fighting are the East of England, Yorkshire, the West Midlands and Scotland.
In the Newent Central Ward by-election for the Forest of Dean Council in Gloucestershire, we failed to stand a candidate. This is not a hive of Lib Dem strength but we do have two councillors on the council and by-elections are an obvious way to build up new wards for the future. During 2008 Western Counties had an enviable record of standing candidates; 21 in 21 contests. It seems a pity that we can't develop systems to avoid these "unforced errors".