Whilst members may wonder what the purpose of one day conference on policy that has no decision making powers is, the One Day conference "Creating a Progressive Society" held at the LSE on Saturday 17th January was certainly busy, provocative and interesting.
The two major themes of the conference were Poverty and Inequality.
Poverty The Institute of Fiscal Studies briefed a session trying to "map" where poverty is worst in the UK, and how the poorest can be best helped. It also considered how Liberal Democrats should approach the issue of poverty and how far our current policy is adequate. The conclusions were both fascinating and revealing. The IFS are making the presentation available on their website www.ifs.org.uk shortly.
Inequality Later in the day there was a discussion of social mobility in the UK following the reporting back of the independent Commission on Social Mobility. This was established in January 2008 by Liberal Democrat Leader Nick Clegg and chaired by Martin Narey, Chief Executive of Barnardo's and the Chair of the End Child Poverty Coalition. The commission investigated the reasons for Britain's apparently low levels of social mobility and recommend policy changes to enable children from disadvantaged backgrounds to fulfil their full potential. Findings include:
1.that a child's life chances are 'dependent on the background and earnings of its parents'.
2.that increased education funding has failed to reach those children most in need.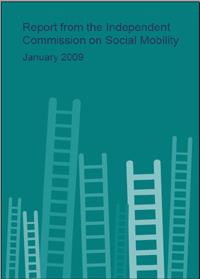 Nick Clegg said ""We agree with the overwhelming majority of the reports' recommendations, especially targeting resources in schools to those children who need most help, boosting vocational education for teenagers, and radically altering the tax credit system so it is focused on helping those families most in need. "Whilst we do not agree with some other recommendations, such as the abolition of the 10p rescue package or the use of admissions ballots in schools, the report will considerably strengthen the commitment by Liberal Democrats to providing equality of opportunity to every child to succeed in Britain. "This damning report shows that a child's prospects are still tied to the circumstances of their birth. That is why we will make improving the prospects for all our children a key part of our election manifesto."
Not rocket science perhaps but an important message none the less and timely given the recent government white paper – New Opportunities: Fair chances for the future.  Copies of the commission report are available to download at www.socialmobilitycommission.org.
Copies of the government white paper are available to download at www.hmg.gov.uk/newopportunities/download.aspx