There were five principal council elections held on the 18th December. Labour held two seats; the Tories held two seats and the Lib Dems gained one seat off the Tories. There were six Town and Parish Council results reported to ALDC; the Tories held one seat, Lib Dems held two and gained two seats off the Tories and one from Labour.
Our only principal council gain of the night was in the Newchurch Ward, on the Isle of Wight where Parish council chairman and farmer Colin Richards won back his old seat lost to the Tories in 2005. He had previously sat as an independent but fought as a Lib Dem in the by-election.
The second story of the night was the BNP threat. In the Hibstock and Heather ward of the North West Leicestershire council the BNP increased the UKIP vote from 20% to 31% to come within 15 votes of winning. Here the local Lib Dems did the right thing by standing a candidate. There is demonstrable evidence that the BNP do worse in seats where we put up a candidate, irrespective of the level of campaign we then run. To not stand a candidate is to aid the BNP. The "united front"/ "standing down to give the strongest challenger a clear run" argument is simply not supported by the facts.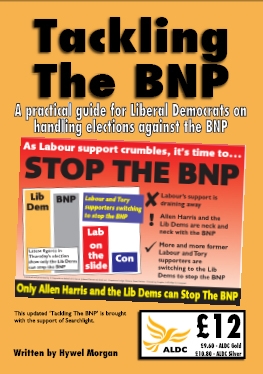 In the Kells and Sandwith ward of Cumbria County Council we failed to stand a candidate and the BNP came within 16 votes of winning. The local party were aware that the election had been called by the BNP and that they would therefore be standing. It is incumbent under the 3.1(b) (i) of the constitution for local parties to secure the election of Liberal Democrats to local authorities The Copeland Local Party failed to do this.
Local officers can easily overlook the significance of individual by-elections to the regional and national party. Different solutions to this ongoing problem have been modelled. In Shropshire they are now using a countywide flying squad. Another method may be for the regions to suspend local parties who consistently fail in this obligation.
The third story of the night was in the Parish council election in Penketh East, in the Warrington South parliamentary constituency, where we took a vital seat by 5 votes, coming from a previous third place to take the seat from Labour. Penketh was until last night the only part of the marginal Parliamentary Constituency of Warrington South not to have any Liberal Democrat representation at Borough or Parish Council level.
Finally in Weston-super-Mare, Clarence and Uphill Ward of North Somerset Council the seat was decided by the toss of a coin!!
Happy Christmas