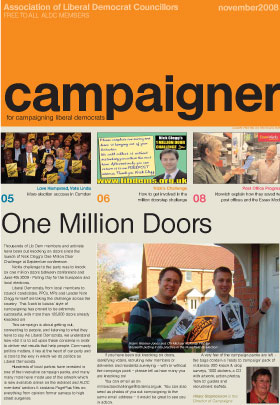 The latest edition of ALDC's members' newsletter "Campaigner" is now available. ALDC members can log in to the website and download this, and all previous editions.
The current edition highlights Nick Clegg's "Million Door Challenge", features campaigning and best practice ideas from Northampton, Hampstead and campaigners up and down the country fighting to save post offices. Comment this edition is from ALDC Chair Cllr Kath Pinnock and Welsh Assembly member Peter Black AM.
Campaigner is sent free to all ALDC members. ALDC membership is open to all members of the Liberal Democrats, £75 for gold membership, £45 for silver membership. Council Groups who join together receive a 12% discount. Click here for more information.