There were four principal council elections held on the 16th October. The Lib Dems held one seat and lost one to an independent. Labour held one seat and gained one off the BNP. There were no Parish Council election results reported to ALDC.
In the Tudor ward in Watford our comfortable win was the result of a well organised effort where we "out campaigned" the other parties. We won our first seat in the ward in 2002 by just 69 votes and have successively knocked off Labour and Tories to take all three councillors in the following years.
The Tories picked a well-known local man, who stands (and loses) most years., In this by-election he "peaked" with the lowest Tory percentage and actual vote for well over 10 years. In their literature the Tories did nothing but attack the Lib Dems – despite the high profile court case about their PPC's vendetta against Lib Dems – and got exactly what they deserved!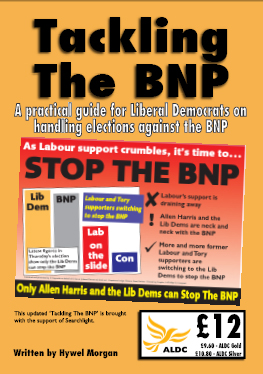 The BNP started campaigning in the ward with a newspaper and several A5 leaflets , including a national glossy and ended almost two weeks before poll with a local " Tudor Patriot" before their candidate announced that he was dropping out but he remained on the ballot paper. They got 4.5% against a more usual 15% in by-elections.
We put out our hard hitting regular leaflets and hit back at the lies with rebuttal leaflets and letters. We targeted hard our supporters, squeezed soft Labour and soft Tories with three separate letters. In the last week we delivered a leaflet or letter a day and two on eve of pool including a bring when you vote petitions. The Tories were gob-smacked.
The BNP also suffered a set back in the Dewsbury East Ward of Kirklees BC where their councillor stood against Nick Griffin for the party leadership, lost, fell out with them and resigned. We stood our ex-councillor for the ward and had a swing of 14% since May, moving from third to second only 108 votes behind Labour who took the seat off the BNP.
Remember to get "Tackling the BNP" ALDC's recently revised guide to fighting the BNP.