ALDC has a limited supply of the Campaign Pack for Nick Clegg's "Million Door Challenge".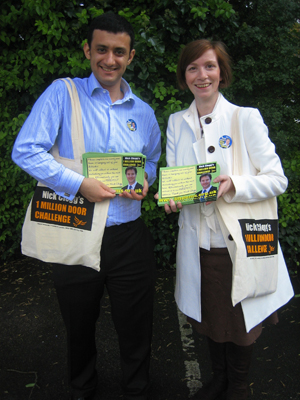 About the Million Door Challenge
More people than ever feel alienated by the political process in Britain today. To many it doesn't seem to matter who runs the country – nothing ever changes. Gordon Brown has been a disaster. There is little enthusiasm for a return to Conservative rule. Nick Clegg's Liberal Democrats are the only party who can reach out to these people.
The best way to engage with people is to go and talk to them. That's why Nick Clegg is setting his party the challenge of knocking on one million doors and talking to millions of people between October 2008 and June 2009.The campaign
The Campaigns Department has produced a campaign pack to support local parties to achieve the Leader's goal of knocking on one million doors between September 2008 and June 2009. 
The pack is available from ALDC online today by credit and debit card. The pack retails at £10, however to cover the sheer size and weight of the packs, had to make that £13, in addition to the regular 20% postage you pay orders just to cover the postage. 
Please let us Know how you get on!
It would be great if you could at the same time encourage people to take part in the campaign and get out knocking on doors, reminding them of the email to send info back to – onemilliondoors@libdems.org.uk .