Well done to Liberal Democrat local campaigners up and down the country for some terrific results which have continued to to come in during the day:
BBC are estimating the Liberal Democrats beating Labour in the notional national share of the vote with 25% for the Lib Dems.
There are more Liberal Democrat Councillors than before, building on our gains last time most of these seats were up in 2004. 
Lib Dems have taken control of Sheffield, Burnley, St Albans and Hull. Labour now only run just one of the big Met cities!
We have successfully defended control of Newcastle, Watford, Three Rivers this morning, as well as Stockport, Cambridge, Eastleigh and Rochdale last night. South Lakeland is yet to declare but looking good. 
Liverpool remains in Lib Dem hands as an independent joins the group to maintain our majority.
Liberal Democrats making gains so far include:
6 Gains in Sheffield to take control AND 6 gains in Merthyr Tydfil as Labour lose control (including unseating the Labour leader!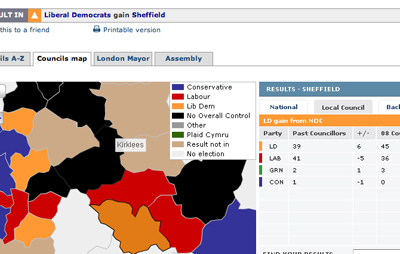 5 Gains in Burnley (to take control) Stratford-upon-Avon, Hull (to take control) and Gosport (to deprive the tories of control)
4 gains in Oldham (to become the largest party), Derby (to become the largest party) and Colchester (where the tories lose control).
3 gains in Newcastle, Knowlsey and in Cheltenham and Wrexham where we become the largest Party. Three gains in Cardiff where we are already the largest party. 
In Purbeck to Tories have lost control and are level pegging with the Lib Dems, in Exeter we are now the largest Party. 
There was disappointment in Oldham, Warrington, North East Lincolnshire and Cheltenham where we missed out on control by just one seat.
In the new Northumberland Unitary Authority we are the largest party with 26 seats and in the new Durham Unitary Authority 27 councillors. These are gains from the Press Association "notional" figures of 12 and 17 seats respectively.
Less good news in West Lindsey where we lost the Council to the Conservatives, and in Pendle where we have lost control of the Council.
The scores at 1.00pm
Conservative + 243 Councillors to 2990
Labour – 297 Councillors to 2265
Lib Dems + 24 Councillors to 1742