With the Brexit debate dominating the news, and increasing evidence that the Government simply cannot deliver on the promises of the Leave campaign, many of our members and supporters are more concerned than ever about what the future will bring.
Add to that the way Theresa May is now desperately sucking up to Donald Trump, and we have a golden opportunity to turn that concern and anger into action.
The vast majority of our new members have joined the party for exactly these reasons, and we need to engage them on this issue if we are to motivate many of them to get active.
Here are a few things local parties can do:
1. Organise a discussion about the issues
You can hold a meeting in a hall, in someone's house, at the pub or in a coffee shop or similar. People want to discuss how they feel, and it doesn't need to be a big flashy event. You could also organise a pizza and politics event or similar.
2.  Promote the Party's single market campaign
The party has been promoting a petition to support keeping the UK in the single market – the single biggest concern of those worried about Brexit. Promote this petition to your members and supporters and ask them to circulate it. Include it in literature. Find out more about the campaign.
3.  Organise a campaign stand
Take the single market petition onto the streets with a street stand. Several local parties have been doing this and getting a great response, including new members joining.
4.  Take part in the action weekend
The Lib Dems will be holding a Europe National Action Weekend on Saturday 4 and Sunday 5 March. We're trying to get lots of activists out on the streets campaigning on Europe to really make a visible impact during the run up to the triggering of Article 50.
If you are going to run a campaigning event, please register your interest online with Lib Dem HQ. The team will then be in touch to let you know about the materials and resources available.
5  Tell your members about all of this
Don't forget to tell your members about any activities you organise and encourage them to come along. Send them an email but make sure you follow up new members with a friendly phone call too. You will almost certainly find that by organising activity around the issue they care about, you will pick up some new offers of help too.
Below, is some example email text sent out by Andy Canning to members in West Dorset. It also demonstrates that this is a good opportunity to ask for donations too:
---
Neil,
Theresa May has committed the Conservative Government to a hard Brexit for Britain. This is:
BAD for Jobs as we will be outside the Single Market and the Customs Union meaning our exports to the EU will be hit by tariffs
BAD for prices as the Pound loses value forcing up the cost of petrol, food, clothing and all imported goods
BAD for the NHS as there will be less money, not more, for public services
BAD for the environment as green European laws are replaced by Conservative laws, written by people who don't care about climate change
BAD for young people as they lose the opportunity to study, live and work in Europe
BAD for EU citizens living here as the Government refuses to grant them the right to stay.
The Liberal Democrats are the only major party opposed to Brexit.  We are the only party offering a referendum on the deal to be negotiated with the EU. Why not join us or help us?  You can join here or volunteer here or give us a donation here.
Yours sincerely,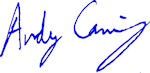 Cllr Andy Canning
Parliamentary Spokesman, West Dorset Liberal Democrats.