Almost 60 Scottish Liberal Democrat campaigners and candidates gathered in Perth on Saturday for the Scottish Kickstart training event organised by ASLDC. Participants came from NE Fife, Dunfermline, Kirkcaldy, Edinburgh, Glasgow, Perth, Highlands, Aberdeen and Aberdeenshire, Argyll & Bute, East Lothian and Angus.
The one-day programme was designed to equip and motivate candidates to get the most out of the summer of campaigning ahead of the Scottish Local Council elections in 2017 and provide candidates with basic key skills in Campaign Planning, Connect, Pageplus and Email.
Scottish Development Officer Peter Barrett said "There was a real buzz and excitement amongst the Kickstart delegates and an enthusiasm to get stuck into campaigning over the summer months. We wanted to blend the basic ward level campaigning essentials with a celebration of what worked in winning constituencies at the Scottish Parliament elections in May and what lessons can be learned for local campaigns and campaigners. The key message was to make a plan and make a start."
Addressing the problems of de-skilling amongst councillors and candidates following the loss of local organisers attached to MPs' offices, ALDC Campaigns Officer Claire Halliwell delivered two modules: Firstly on Connect which covered preparing lists, cutting turfs, printing lists and canvass sheets and data entry. Secondly; Pageplus training covered the use of ALDC leaflet templates. Claire said "We wanted to help local candidates be much more self-reliant, equipped with the knowledge and skills to get going over the next three summer months."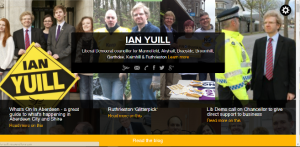 North East Fife Oganiser, Rory Roberson, re-enforced the message about the importance of data "If it's not in Connect then it doesn't exist" Critical to Willie Rennie's successful election this year had been the amount of data collected during the 2015 Westminster Election campaign and the targeting of Conservative and Labour voters to achieve the 15% swing to the Lib Dems. Consistent branding and repetitive messaging were demonstrated in the 17 pieces of literature that went through voters doors in the final six months of the campaign. "We increased the number of deliverers by more than 50% over the course of the campaign."
Scottish Director of Campaigns, Adam Stachura, reinforced the key learning points of the planning workshop during a plenary session on setting targets to win. The most popular session of the day was delivered by Aberdeen City councillor, Ian Yuill on getting started with email campaigning. Ian set out clearly how to collect email addresses, build the email database using Mailchimp and data protection compliance. Campaigners learned how to link email newsletters to their ALDC MyCouncillor webpage and Facebook page and Twitter feed.
If you missed this one-day Kickstart taster in Perth you can catch up  at the three day in-depth Kickstart event in Stone on 2-4 September