After a successful Kickstart weekend, we are very much looking forward to holding another!
Early Bird discounts are available until November 1st, but this event is filling up fast.
Bookings are open for our November event and, if you couldn't make it to September, now is the time to get your team together and book your place at the party's premier local campaigns training event.
You can book for both events now at our Events Page
Tickets are currently available for £80 (ALDC member, shared room), or £110 (ALDC member, own room) and the ticket price includes two nights' accommodation and all day refreshments and all your food from arrival at 6pm on Friday till when you depart at 2pm Sunday after lunch.
Non-member tickets are £50 extra – so it makes sense to join ALDC (£41 for your first year) first and save money on your booking!
Kickstart: Something for Everyone
If you are a new party member; Kickstart will give you the chance to take the next steps in getting involved in your local area and campaigning to win local elections. It's also a great opportunity to meet other members of your local team in a relaxed
If you are an experienced local campaigner; Kickstart will give you the chance to brush up on your skills, learn the very latest in campaigning techniques, and fine-tune your plan with an experienced mentor over the course of the weekend.
If you are a councillor, election agent, or local party organiser; Kickstart is the only place to get the team together, hammer out your plan, and boost your campaigning momentum at the party's premier local training event.
Book Now via ALDC's Events Page
Don't Just Take Our Word For It!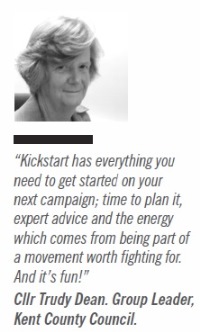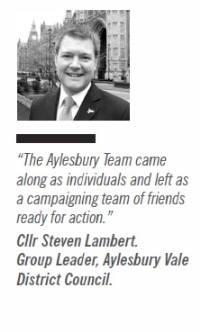 Places are already filling up, so speak to your local campaign group now and book now.
We look forward to seeing you there!
For any advance/informal enquiries, please contact Emma Hall (emma.hall@aldc.org) to discuss.
---
Comments
says
Is there to be a Kickstart event in Scotland this year and, if so, when?
says
The Scottish Kickstart Conference run by ALDC, ASLDC and the Scottish party in lead up to Scottish Parliament Elections in 2016 and Local Government Elections in 2017 will take place in Perth on Saturday 14th November. Please put this date in your diary now – further details will follow in due course.
says
CAn someone tell me where to find prices without going right through the booking process?
says
D'oh! Found the email. £110/£80 sounds a good deal.
says
Will there be a similar course in the south e.g. London
says
Good morning
I would be grateful if you could let me know the date of the next training weekend. I am a new member and am trying to attend as many training days possible.
Kind Regards
Evangeline Pillai