Most of our candidates in target wards this May are rightly defending their local record of action and campaigning. The materials for this have been promoted by ALDC over many years . See our earlier articles!
"A record of action, a promise of more" has been one of the mantras of the party for years that has been copied by the Tories and Labour in recent times.
Campaigning for the local elections should continue to concentrate on our local record and the positive reasons to support our candidate, but the opposition (in particular Labour) won't shy away from criticising our record in government.
For that reason, we need to make sure we tell people about the positive aspects of our record. Around 75% of our manifesto from the last General Election is in the coalition agreement, and that's something we should be proud of .
Recent polling has demonstrated that the public is largely unaware of that record, so in conjunction with other campaigning the party has dedicated Saturday April 5th as a day to celebrate those achievements and campaign on them. Unlike earlier actions days there isn't a big pack of things to do but we think that you might mark the day of action in your area with a street stall or delivering the leaflets below across as much of your local area as you can.
Support Materials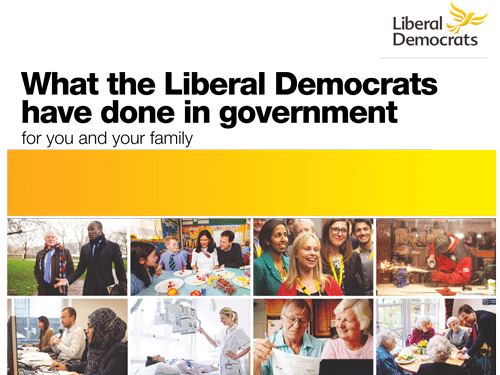 LDHQ  are offering a bulk buy deal, which you can take part in here.
To download a PDF of the leaflet click here
It's important that you order this as soon as possible, as the deadline is Monday March 24th at 3pm
Equally the local achievements of your MEPS can and should be promoted. Contact your region for materials on this.
For those using the 4S groups for targeting our national record of achievement it particularly useful for the "Supporters" group. The A4 would work well as in insert in some Supporters target mail for instance. It would also work well in members mailings and events.
Today's Budget
Included in this are the positive points in today's budget:
£700 tax cut promised, £800 tax cut delivered
The Budget has confirmed victory for the Liberal Democrats in our campaign to deliver an £800 tax cut for people on low and middle incomes.
Cutting income tax by £700 – by raising the tax-free allowance to £10,000 – was the top priority on the front page of the Liberal Democrat manifesto. That comes into effect next month and the Budget today has confirmed that the Liberal Democrats have now been able to go even further. The tax-free threshold will rise to £10,500 next year, giving a tax cut of £800 for 25m working people since 2010.
Liberal Democrat policy is to continue to increase the threshold in the next Parliament to £12,500
The Budget also includes:
A boost for apprentices – £85m to extend the Apprenticeship Grants for Employers scheme, creating 100,000 new apprentices, and £20m to support apprenticeships up to postgraduate level
A fuel duty freeze
Giving people control over the money they have saved in their pension pots – removing the need for people to be tied into buying annuities
Help for savers – reducing tax on savings for people on low incomes and increasing the levels and flexibility on ISAs
Help for small businesses – doubling the amount of money that companies can set off against tax for investing in new equipment to £500,000
Tax-free childcare worth up to £2,000 per child
More measures to clamp down on tax avoidance
Commenting, Liberal Democrat Chief Secretary to the Treasury, Danny Alexander said:
"This recovery would not be happening without the Liberal Democrats in Government. The Liberal Democrats are committed to building a stronger economy and a fairer society. The Liberal Democrats have fought for rises in the amount of money that people can earn before paying income tax right from the start of the coalition. We have already delivered an increase to £10,000 by April this year. That gives millions of tax payers a £700 tax cut.
We've been campaigning for months to go even further and we've been successful. The personal tax-free allowance will rise to £10,500 in April 2015 which will give millions of taxpayers another £100 tax cut taking the total tax cut in 2015 to £800."