Members' highlights include:
ALDC Members' Reception (SUNDAY LUNCHTIME) with Nick Clegg and Vince Cable.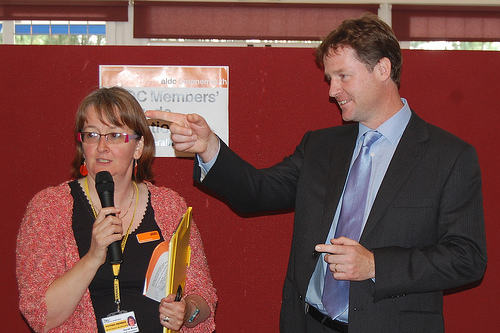 Once again we are working with our friends at the Co-operative on our members reception which this year focuses on the theme of sustainable communities. ALDC members only.
ALDC Annual General Meeting and Campaigner Awards 2009 (SATURDAY EVENING)
Members of ALDC are invited to our Annual General Meeting which is also the announcement of the Campaigner Awards 2009.
Policy focused events include: Will the bus get you back to work? Transport Strategies post Credit Crunch with GMITA (SUNDAY EVENING) with Norman Baker MP and Caroline Pidgeon.Reclaiming the Green Agenda (MONDAY EVENING) with Simon Hughes MP and Friends of the Earth.Winning against the Far Right (TUESDAY EVENING) with Chris Davies MP, Seachlight and Cllr Gordon Birtwistle (Burnley)
Full details will be avaialble in our Local Government Directory nearer the time. Please get in touch for more details.
Back to Basics with "Campaign Essentials"
Winning elections is about getting some basics right, so as part of our 40 hours of training at Bournemouth Federal Conference we've got a programme of training every morning from Sunday – Tuesday which is all campaign essentials that all of us need to know. Whether you're new to Lib Dem campaigning, or a seasoned campaigner who needs to refresh those skills these are the sessions for you. We would particularly urge you to encourage new campaigners to attend these sessions.
The sessions will cover:
– FOCUS leaflets – why and how to
– Campaign Planning
– Postal Voters and Direct Mail
– Polling Day – all you need to know for a successful final day
– canvassing techniques
– EARS and Data – why we use collect data and what we do with it
All these sessions are free to any member (or staff member) of the Liberal Democrats. More information in the Local Government Directory to be published nearer the time.