ALDC has launched its Autumn 2008 "training roadshow" which will provide campaign training at a wide range of Regional Conferences and "Kickstart" events during Autumn 2008.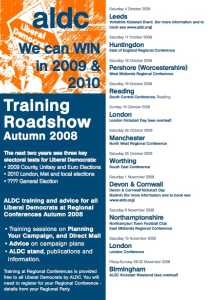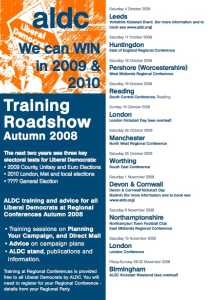 The programme features events in Yorkshire, Eastern Region, West Midlands, South Central, London, North West, South East, Devon/Cornwall and East Midlands regions this Autumn – including special "kickstart" events in Yorkshire, London and the flagship weekend in Birmingham. 
All regional conferences with ALDC will include:
– training sessions on planning your campaign and direct mail
– advice on campaign plans
– information, publications and membership stand. 
ALDC training at regional conferences is FREE to all party members, but you will need to register at your regional conference – see your Regional Party for details. 
The Training Guide also contains registration details for the one-day kickstart in London and the weekend Kickstart in Birmingham. 
Download a copy of the Training Roadshow flyer here.