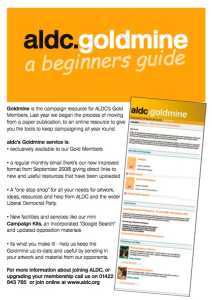 ALDC has produced a "beginners guide" to its Online Goldmine – the campaign resource for its Gold members.
The guide gives a step-by-step guide to logging into the Goldmine, and takes members through the various resources that are available.
ALDC's Online Goldmine is an extensive "one-stop-shop" for campaign resources, with materials produced by ALDC, the Campaigns Department, Innovations and more. The Goldmine includes campaign resources, leaflet and election campaign templates, best practice, practical guides, logos, fonts, pictures clipart and more!
Click here to download the guide (LOG IN as an ALDC member FIRST!).