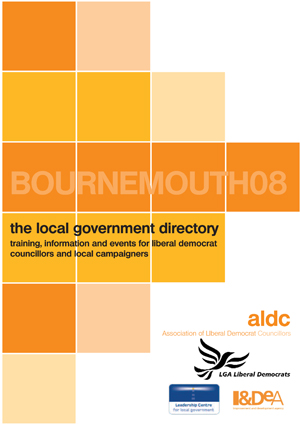 The Local Government Directoryis now available. This gives details of the events, training and information available for Lib Dem Councillors and local campaigners in Bournemouth from ALDC, the LGA Liberal Democrats, the Leadership Centre for Local Government and the Improvement and Development Agency (IDeA).
Fringe Programme
Bournemouth sees a busy fringe programme for the local government family.
Fringe meetings from ALDC include: PR for Local Government, How Green is Your Council?, Renewables and Community Transport.
LGA Group fringe events include: a Local Government Question Time, Tackling Violent Crime and Taking Flood Prevention Seriously.
The Leadership Centre launches its 2008 Next Generation Programme, with fringes on The Local Parliament and Empowerment.
Receptions
Highlights of the week include the Leadership Centre 2008 Next Generation Programme launch and reception (Sunday evening); ALDC's Members Reception (Monday lunchtime) and the Local Government Reception (late Monday evening).
Training
ALDC and the IDeA are working together to provide a programme of Councillor Training. This includes two half day workshops on Being an Effective Local Councillor (Saturday)and Making Scrutiny Work (Sunday). Other sessions look at councillor's websites, town and parish councillors, casework, group away days, political support officers and group cohesion.
ALDC is also providing a full programme of campaigner training. This includes a full day Page Plus Workshop (Saturday) and a half day session on Voter ID and Canvassing (Saturday). Other sessions cover essential campaign skills such as Focus, manifestos, pool, delivery networks, finding candidates, the postal vote and taking photos.
Advice
ALDC and IDeA are sharing a stand again this year and staff from both organisations are on hand throughout to give advice and information. Find out more about ALDC's publications, our members' websites and membership. The LGA Group and the Leadership Centre are also available nearby with information and advice.
Look forward to seeing many of you in Bournemouth.