Tell us what you think!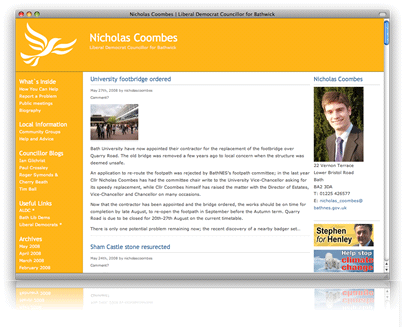 All ALDC members are entitled to a free "Councillors Website" from ALDC on the mycouncillor website system. We only launched the service eight months ago, but we've been staggered by how many of you have taken up the system.
As the system approaches its 1st Birthday this summer, and we are planning a series of updates and improvements to improve the system. So we'd like to know what you'd like to see, from your experience of using the sites over recent months. Some things are already definitely planned, based on what you've already told us.
This includes:
an "online poll" that you can set yourself to ask people a simple question about a local issue
an "online petition" where people can sign up to a simple petition, which will help us gain more useful email addresses and phone/mobile numbers!
an automatically updated "Lib Dem News" page automatically included in the sites.
But what else would you like to see? We're really keen to hear back from site users AND non users about what would make the system more effective for you on the ground.
If you could send these to tim.pickstone@aldc.org before the end of June 2008.