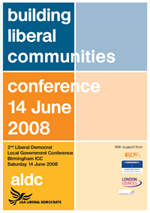 The 2008 Liberal Democrat Local Government Conference is on Saturday 14th June at the ICC Birmingham
Speakers include: MPs Julia Goldsworthy, Chris Huhne, Steve Webb and Andrew Stunell and Baroness Ros Scott.
Training is being provideed by the Campaigns Department, ALDC, IDeA, EARS, Midas Training and the Innovations Team at Cowley Street.
More details of the programme here
Many council groups are bringing along a team, so please help support
this important event.Register now online at www.aldc.org – click on "events".
Registration starts at £40 for ALDC's Gold Members, but rates rise
before the day itself. Groups of 5 get one place free!
This is preceded by four events on Friday 13th June:Leadership Summit. Council Group  Leaders will have a chance to discuss issues facing them and their council area at a closed conference taking place at the Radisson SAS Hotel, Birmingham starting at 10.30am through to 5pm.  If you are a group leader and want to attend this please email Seth Thevoz at the Leadership Centre for Local Government seth@localleadership.gov.ukRepresenting ALL communities.  A one day conference on issues and opportunities of working with Britain's black, ethnic and minority
communities.  This should especially appeal to BME councillors,
activists and PPCs as well as those with a commitment to equality and diversity.  £30 registration to the LGA (just £10 extra  if registered
for the Local Government Conference the next day).Political Group Officers Away Day.  Open to all political group
reasearchers and support staff this will commence at 2pm through to
6pm in the Council House at Birmingham City Council.  For more
information or to book a place please e-mail either Rob Banksrob.banks@lga.gov.uk or Tom Dommett tom.dommett@basingstoke.gov.ukThe Local Government Dinner.  This is a great evening event at 7pm for 7.30pm in the stunning Banqueting Suite at Birmingham City Council House.  Tickets for this is just £30 and places can be booked online through ALDC.