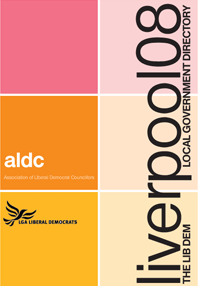 Federal Party Spring Conference this year takes place 7-9 March 2008 in Liverpool. ALDC has a packed programme of training and fringe debate. Following on from our successful Councillor Skills Training Day, a full day of training is available for Lib Dem Councillors, and a parallel programme is available for campaign skills.
Fringe events include "Save our Post Offices" with Sarah Teather MP, "Food Miles" with Tim Farron MP (with kind support from Waitrose) and a Local Elections 2008 Briefing with Andrew Stunell MP and Hilary Stephenson.
Once again the IDeA will be joining us on our stand (Stand 5). ALDC and IDeA staff will be available give advice and information throughout the weekend.
More information in the Local Government Directory, available here.
Why not Stay on Sunday in Liverpool for a couple of hours after the conference finishes. Liverpool is the largest Lib Dem run council in the country – help keep it that way by joining ALDC and the Liverpool team leafleting in target wards on Sunday afternoon.